Bara en dag kvar, känns tråkigt att det roliga tar slut så fort, idag har jag träffat Mark Hamill fått mina tre foton signerade och skakat hand, löpande band princip där man bara träffar dem några sekunder efterat ha köat i 1,5 h, men det är ok, det är så det fungerar, har också träffat Warwick Davis, som jag också såg i väntan på panelen med ljudkillarna, han susade fram på en Segway, såg ganska lustigt, men helt klart smidigt.
Dagens program
Star Wars 3D panel med John Knoll och Dennis Muren, diskussion kring konverting av filmer från 2D till 3D som visnig av klipp från Attack of the Clones omgjord till 3D, intressant, men jag föredrar nog ändå 2D.
Star Wars in 60 minutes, en ensamble på ca 10 personer som körde igenom alla 6 filmer på en timme, ganska roligt, men en gång räcker.
Star Tours, missade första halvan av denna panelen om den nya Star Tours.
Behind The Scenes in the Star Wars Cantina med Tom Spina, Nick Maley och Jon Berg, bästa panelen idag, 1.5 h om alla aliens i cantinan, mycket intressant.
Diskussion mellan Dave Filoni och Pablo Hidalgo om Clone Wars, EU och Lucas.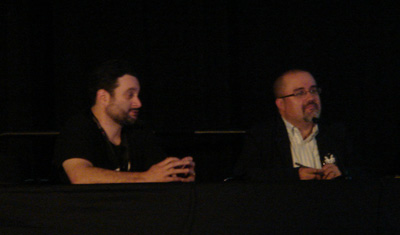 Uppdatering med bilder kommer, tiden räcker inte till, känningar i halsen inte konstigt om mán skulle bli sjuk med så mycket folk tätt samlade på samma ställe, dags för esberitox och sängen.