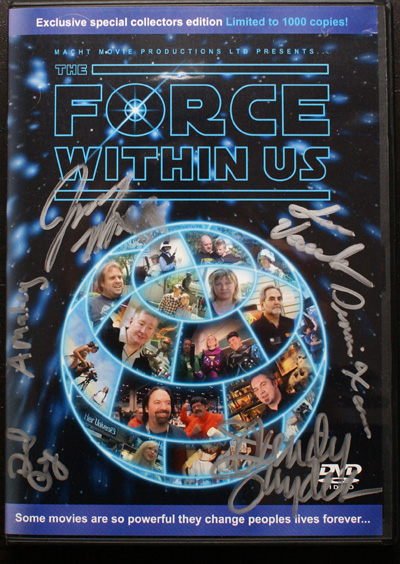 I veckan kom då äntligen Chris Machts andra film om Star Wars fans, The force within us. Intervjuer med fans, om vad Star Wars har betytt för dem och deras liv, intervjuer med bl.a Robert Watts, Dave Dorman, Ashley Eckstein, Jeremy Bulloch, Steve Sansweet, Paul Bateman och Jimmy Mac. Framför allt kanske de som inte är Star Wars fans skulle se den här filmen, de som har en förutfattad åsikt om hur Star Wars fans är…många skulle nog bli förvånade.
Jag gillade den första filmen, The Force Among Us och denna är inte sämre.
Signerade fodral (tyvärr är Jimmy Macs autograf lite utsmetad, lite problemet med silver…man måste vänta längre än man tror)
De som signerat är:
Jimmy Mac – "Cast" member
Ian Vacek – Director of Photography
Dennis Xanos – Editor
Wendy Snyder – "cast" member
Dave Cosby – Additional Photography (Redwoods)
Anne Maley – Assistant Media Coordinator
On the back of the dvd
Caren Cosby – Had written the synopsis
Michelle Macht – Cast member, wife of Cris Macht, assistant to Cris Macht, etc….
Cris Macht signed the DVD cover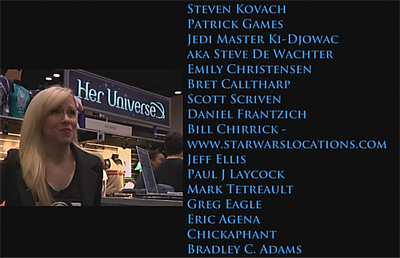 Träffade Chris på C6 och han gav ett väldigt sympatiskt intryck, som han gör i filmen också. Kickstarter projektet inkluderade att ens namn skulle visas i eftertexterna (bild ovan).