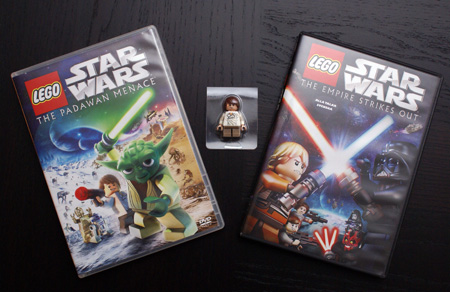 Det var inte bra tag sedan jag köpte de här två Lego Star Wars filmerna på DVD och trots att de bara är ca 20 minuter har det inte blivit av att jag har sett dem förrän nu, brukar ju tyda på något…
Jo det är så klart att detta är filmer (hmm 20 minuter långa, kort-filmer kanske?) för barn men de har sina poänger även för vuxna, men det är nog inget jag kommer att se snart igen, tillsammans med Family Guy varianterna (som jag inte alls förstår mig på, ska det vara roligt??) och Robot Chicken (som ändå är lite roliga…ett tag), men det känns ändå som att man "ska" ha sett dem, ligger i prisklassen 2 för 99 och har du tur så hittar du en där det följer med en Lego mini figur!
Lite extra material på The Padawan Menace: två kortare historier på några minuter: The Quest for R2-D2 och Bombad Bounty, två Star Wars på 2 min spelad med Lego figurer (hade sett de innan så finns väl på Youtube) samt The Clone Wars animated Comics. På nummer 2 finns inte någonting alls så priset på den känns kanske lite saftigt, hade varit mer rimligt att få som en giveaway när man köpte något Star Wars Lego.
Flera skådespelare från de båda trilogierna (och Clone Wars), gör rösterna, t.ex Anthony Daniels (förvånad?), Kenneth Colley och Julian Glover.